Zero Breeze Mark 2 Cordless Portable Air Conditioner PLUS
What is a real portable air conditioner?

There are a large number of air conditioners, and there are also a variety of different kinds of portable air conditioners in the market, why do we need another so-called portable air conditioner?
Traditional air conditioners are designed for fixed spaces and need to be installed in fixed locations. Even for those home mobile portable air conditioners are restricted to be moved indoors by wheels and cannot carry outdoors.
Most essentially, they will need a household AC 110-240V, which is beyond practical outdoors. So that's why Zerobreeze address these issues to make an air conditioner truly PORTABLE
ZERO BREEZE MARK 2, from the very beginning, has been designed for optimal portability from all aspects.

In order to create a highly flexible, high-performance system that is not restricted to a home power supply, the MARK 2 was designed from the inside out. This is a truly portable air conditioner that allows you to enjoy cold air anywhere.
IN THE BOX: 1 x Mark 2 Air Conditioner, 1 x Mark 2 Battery, 1 x Power Adapter, 1 x Drainage Pipe, 2 x Exhaust Hose (100cm), 1 x Exhaust Hose Adapter, 1 x IR Remote Controller, 1 x Mark 2 User Guide
_____
ZERO BREEZE MARK 2 portable air conditioner, with the appropriate size and weight and built-in 24V micro inverter compressor, through its smart battery, provides you with the ultimate experience with 5 hours of cooling.





Take ZERO BREEZE MARK 2 wherever you are, and be free to enjoy the cool where you need it, even on the most remote places.

ZERO BREEZE MARK2 uses high-efficiency miniature inverter air conditioner compressor and compact high-efficiency fan system. It can drop the air 30F lower than the environment in 10 minutes. Compared with traditional portable air conditioners, MARK2 is 60% lighter and 48% smaller in size.
Go Anywhere
MARK 2 adopts energy-efficient design. One MARK 2 smart battery can have a cooling life of up to 5 hours, and the battery can be charged with a car cigarette lighter or solar energy through the special adapter.

With the special adapter *, MARK 2 is also compatible with third-party batteries,and the MARK 2 smart battery can be charged with a car cigarette lighter or solar energy through specific adapter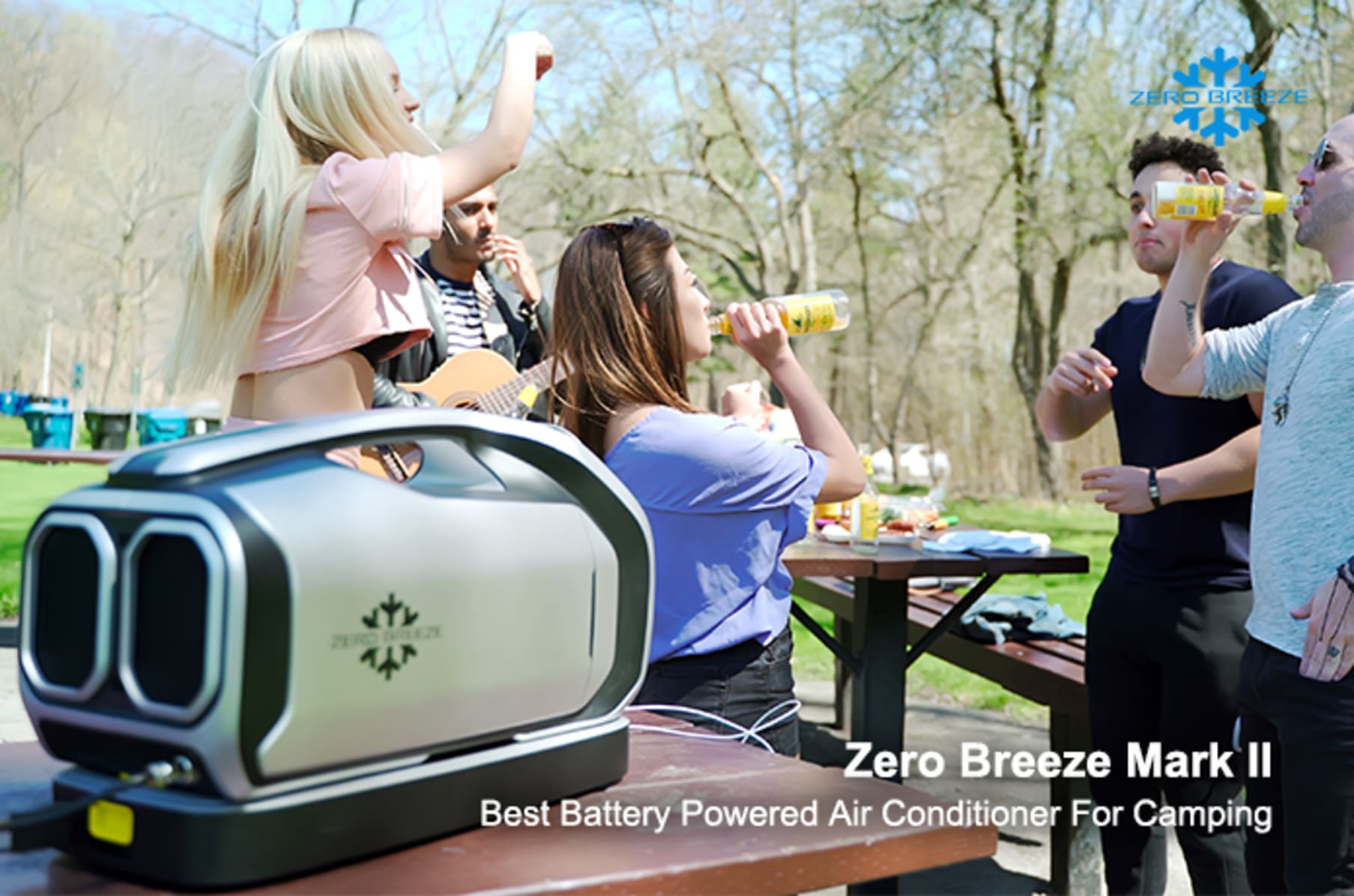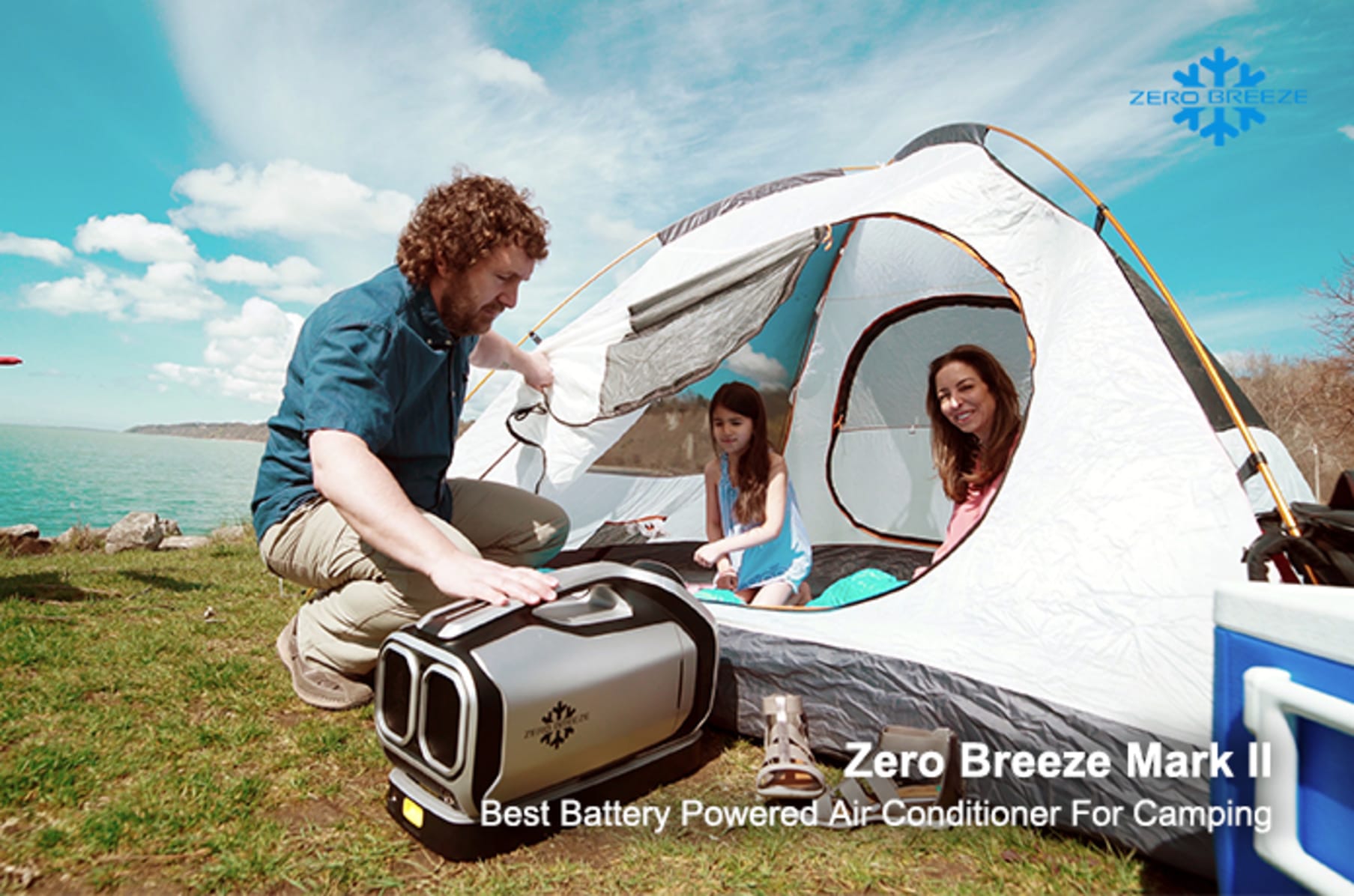 More than Hardware Innovation 
As ZERO BREEZE's second-generation cordless portable air conditioner, we have carefully considered the outdoor environment and the feedback of the use of the first-generation air conditioner supporters, and constantly optimize and innovate in details to make the best cordless mobile air conditioner that can be used anywhere in the world. 
--
Shipping and Returns
We hope you have enjoyed your online shopping experience with Portable4Life.com. Please refer to our section 'Shipping and Returns' for a complete guide on shipping and how returns are processed. All of our products are shipped Free within the US. You can contact us for information regarding freight cost outside the US or for expedite shipping. All returns will be processed under our terms contained in our Returns Policy.
- The Portable4Life Team
Portable4Life
is committed to providing you the best prices available! In case you found a lower price online we'll simply match it. How it works is very simple, just
notify us
within 7 days of purchase and we'll refund the difference. Or if you want to buy a product and you saw a lower price somewhere else, let us know too, we'll match the lowest price available.
Complete the form below after a purchase (to request refund) or before a purchase (to get the lowest price):
The Following Conditions Apply:
-Product must be identical product (no add-ons no variations)
- It must be the same manufacturer with same warrant, model and year, and must be in stock (available product)
- No clearance or close-out items apply
- We won't match prices based on pricing errors from other websites
- Price applies to Total Price including Shipping, Taxes, and discounts. We reserve the right to verify all of the above before issuing any refund
Zero Breeze Mark 2 Cordless Portable Air Conditioner PLUS
Zero Breeze Mark 2 Cordless Portable Air Conditioner PLUS
Paypal Credit - Buy Now, Pay Later!
Buy Now, Pay Later! - 100% Interest-Free
PayPal Credit gives you the freedom to buy today and pay over 6 months with no interest. Buy now and pay later! If you already have a PayPal account approval is quick and easy.
How to use Paypal Credit
Select PayPal as your payment method.
At checkout, select PayPal as your payment method. You will then be directed to the PayPal site.
Apply for PayPal Credit.
At the PayPal confirmation page, look for PayPal Credit and click to apply. You should get a decision in seconds.

Pay over 6 installments
If approved, you are set. Buy instantly with PayPal Credit from your PayPal account and enjoy no interest for 6 months!
Why Paypal Credit?
Buy Now, Pay Later.
No Interest for 6 Months
Enjoy the Freedom. No full upfront costs.