Everything You Need To Know About The BAM Supreme All Terrain Electric Bike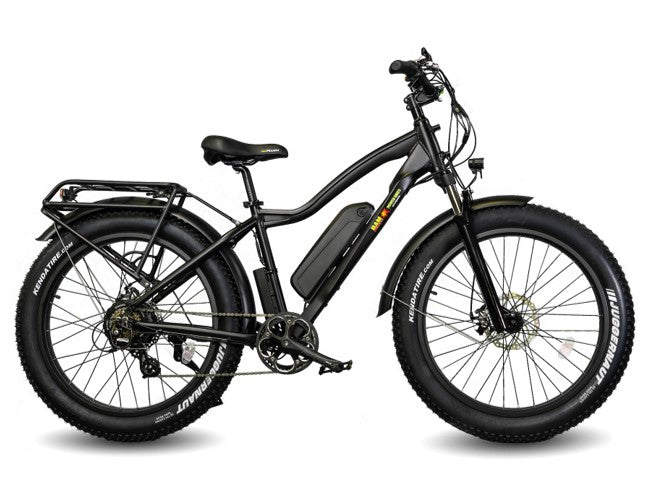 Everything You Need To Know About The BAM Supreme All Terrain Electric Bike
The BAM Supreme 750W is the perfect all terrain bike. It is solid, reliable, powerful, and comfortable. This is why it's our #1 recommended bike. The BAM Supreme includes some great new features, including front and rear fenders, rear rack, wide LCD for better visibility, integrated front and brake light, and a Velo Soft saddle for added comfort in every ride.
These are 5 things to know about the BAM Supreme 750W:
1- Power and range:
The EW Supreme's powerful 750W geared hub Bafang motor powered by a long lasting 48 Volt 14AH Lithium Ion battery with Samsung cells, is good for anywhere from 25 to 50 miles, on a single charge.
2- All terrain capability:
The EW Supreme is ready for to provide the best experience in all terrains. Up front, you get an adjustable front suspension fork with 80-100 millimeters of travel along with mechanical Tektro disc brakes that provide excellent stopping power whenever and wherever you need it. The BAM Supreme also features Kendra Juggernaut 4" fat tires with a dual compound tread that provides a safe grip no matter if you ride on pavement, dirt, sand, or snow.
3- Comfort:
A bike built to ride the toughest terrains, the BAM can also be gentle with plenty of comfort for a ride in the city. The Velo Plush seat with rear grip keeps you going for long periods of time in the saddle and the adjustable stem allows you to find the optimum riding position to make each journey comfortable. The BAM Supreme takes it to the next level for your off road and urban adventures.
4- Storage capacity:
The BAM Supreme has the option to add multiple items to improve the storage capacity when carrying other items. A front rack is optional and can be added to your bike when bags or equipment are needed for the ride (in addition to the already included rear rack which gives plenty of storage space too). 
5- Better view with a BIGGER LCD display
The BAM Supreme has a bigger LCD Display compared to other all terrain  e-bikes. The visibility of the information provided through the LCD Display (speed, battery charge, distance) is much clearer and easier to read. 
EXTRA - Great customer support and its Made in the USA!
BAM Power Bikes have one of the best after sale support in the industry, which automatically improves your entire experience with your bike. They're extremely efficient with any support needed, quick to respond and always available.
The BAM Supreme is our #1 recommended all terrain bike and its made in the USA. Great brand, great people, great support.
Are you in?
Check the BAM Supreme here